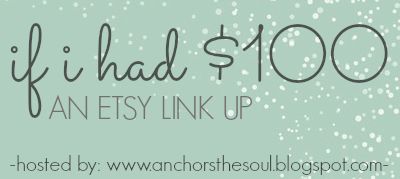 About a week ago, I saw this great link up on
Anchors the Soul
called "If I Had $100" any Etsy link up. The purpose is to spend a hypothetical $100 on Etsy and share what you would purchase. I have seen the CUTEST items by following this link up, so I thought I would participate!
Note: if you're interested in more details or to see more items from these shops, click the images!
1. Monogrammed Lilly Pulitzer (Inspired) Macbook Pro Computer Case
I recently purchased a Macbook Pro, which I absolutely love. Since I made such an investment, I want to protect my computer as much as possible! I love Lilly Pulitzer prints and anything monogrammed, so this seems like the perfect case for me! $45
2. Personalized Bangle Set
I LOVE bangles, and this set incorporates several things I love: bling, love and initials! $34
3. Elephant Bangle
Elephants are my favorite animals, so this bangle would make a beautiful addition to the set above. $12
Total = $91
I'll be linking up on
Anchors the Soul
tomorrow, so check it out! What would you buy if you had $100 on Etsy?